The
Rollercoaster
Ride
of
the
Chinese
Theme
Park
Industry
is
Just
Beginning
Caifu Magazine |

by Caifu Global

EN
Until now, local companies have been the dominant players in the Chinese theme park industry. However, the current players are under siege from foreign developers, as well as mainland conglomerates with an eye for expansion into this industry; but the real shake up starts when the happiest place on earth opens in Shanghai. Disney will launch its third theme park in Asia on June 16, 2016. The resort, located in the Pudong district, covers almost one thousand acres. Expectations are high. And Shanghai Disney Resort is a just one of many foreign theme parks under development in China.

"About 2 years ago… [AECOM] found there are around 60 parks under development. We haven't completed the update but we've been doing some research and we think there are about 100 parks under construction now," Chris Yosshi, the Vice President of Economics and the Global Director of Leisure and Culture Services Asia for AECOM, said recently in a interview. He also added, "China is definitely the biggest boom in the industry." The International Association of Amusement Parks and Attractions (IAAPA) agrees with Mr.Yosshi's sentiment. Colleen Mangone, director of media relations for IAAPA, responded, "According to the 2015-2019 IAAPA Global Theme and Amusement Park Outlook report, major park openings will continue to drive the market over the next five years. We project attendance to rise in Asia-Pacific at a 6.7 percent compound annual rate to 540 million in 2019." A rise in attendance means more revenue. An IBISWorld report estimated that the revenue for China's theme park industry grew from 2010 to 2015 at an annualized rate of 10.9 percent. In 2015, revenue was expected to increase by 9.3 percent to US$3.3-billion.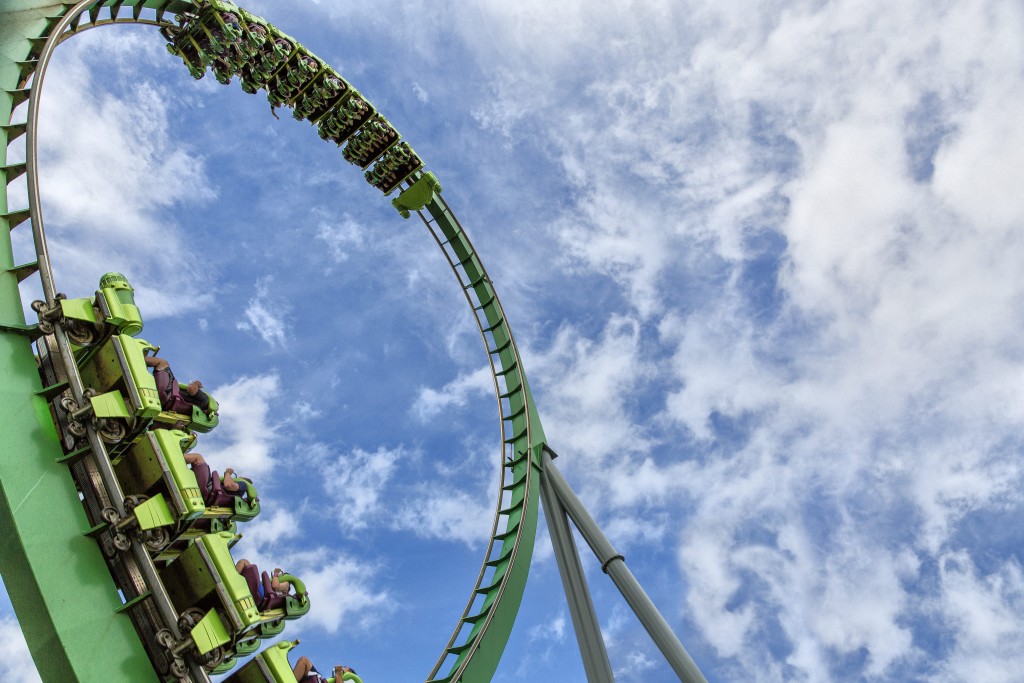 This growth is driven by the spike in theme parks aimed to attract the growing middle class. Mr.Yosshi explained, "Theme parks are a middle class product." According to Credit Suisse's latest Global Wealth Report, dated October 2015, China's middle class has outnumbered the United States, 109 million to 92 million. The report's definition of middle class is based on "wealth-band" rather than the usual income range. Wealth-band is a range of how much wealth a person possesses. It takes into account all of a person's assets, including property, rather than just the annual income. Credit Suisse prefers the wealth-band method because income range mistakenly implies that if a middle class worker becomes unemployed, he will lose his middle class status. Using the U.S. middle class wealth-band as a benchmark, the report found, "To be a member of the middle class in 2015 according to our methodology, an adult needs at least USD $28,000 in Brazil, Chile and China." A key characteristic of the middle class is that there is more disposable income. And the Chinese are big consumers.

With 109 million middle class consumers and counting, different industries like tourism, electronics, fashion and film are all targeting this demographic. The theme park industry is no different. Dr. Markus Schuckert, an Assistant Professor at Hong Kong Polytechnic University who specializes in the theme park industry, said in an interview: "In terms of habits, Chinese customers like to buy merchandise. They like to dine in the park." Couple spending habits with more purchasing power, all theme park companies are vying for a piece of the middle-class-disposable-income pie.

Major International Theme Park Players

Disney is the world's top theme park group by attendance. According to the TEA/AECOM 2014 Theme Index and Museum Index: The Global Attractions Attendance Report, Disney parks around the world welcomed 134 million visitors, which is more than double that of second-place-finisher Merlin Entertainment Group. In 1955, the first Disneyland opened in California and the park brought the industry to new heights with its meticulous branding and entertainment experience. Disney exported its first park outside of the U.S. to Japan in 1983, followed by Paris in 1992 and then Hong Kong in 2005. Now, Disney is bringing its magic to Shanghai. The Shanghainese government initially announced the project's approval back in November 2009, and the official groundbreaking took place in April 2011. On the day of the opening, June 16, 2016, Disney will have spent about 34 billion yuan, or USD$5.5-billion, building its new resort in Shanghai.

Walt Disney Company and Shanghai Shendi Group funded the resort, with Walt Disney owning 47 percent and Shanghai Shendi 53 percent. Shendi Group is a state-owned joint venture investment firm formed by three companies: Shanghai Lujiazui Group Co., Ltd., Shanghai Radio, Film and Television Development Co., Ltd., and Jinjiang International Group Holding Company. On Shanghai Disney Resort's website, the partners boast they are building a Disney resort that features signature Disney experiences and "many exciting new elements tailored specifically for the people of China and unique to the Shanghai Disney Resort. Shanghai Disneyland will be authentically Disney and distinctly Chinese." The resort will accommodate Shanghai Disneyland (six themed lands), two hotels, Disneytown (a shopping, dining and entertainment district) and the Wishing Star Park (gardens spanning almost 100 acres). The newest Disneyland will house Disney's most interactive and largest castle, the Enchanted Storybook Castle. The one-of-a-kind resort hopes to attract 330 million people living within a three-hour drive or train of Shanghai.

After Disney, the most anticipated theme park project in China is Universal Studios. In October 2014, Universal's parent company, Comcast NBCUniversal, announced a partnership with state-owned Beijing Shouhuan Cultural Tourism Investment Co., Ltd. (BSH) to build a Universal Studios theme park in Beijing. The park will cost more than 20 billion yuan and phase one, which will span 300 acres, will include one theme park, an entertainment complex filled with shops and restaurants, and a first-ever Universal-themed hotel. Once all the additional phases are complete, the resort will rival Shanghai Disney in size, encompassing about 1,000 acres. This will be the largest Universal Studios park in the world. Since the initial announcement, rumours have pegged phase one to be completed in 2019 on a bigger-than-expected budget of 50 billion yuan; phase two is set to include a water park, another theme park and five more hotels. Neither Universal nor BSH has officially confirmed the rumours.

Another exciting foreign entrant into the China market is Six Flags. In June 2014, Six Flags announced its partnership with Beijing-based developer Riverside Investment Group Co. Ltd. to build multiple theme parks in China. The first park in Haiyan, south of Shanghai, broke ground in January 2016. John Odum, President of Six Flags International Development Company, said in a statement, "The Six Flags park in Haiyan will be a spectacular park featuring our signature lineup of record-breaking roller coasters, family rides and attractions, and world-class shows—along with themed sections of the park that pay homage to the storied Chinese culture." The project costs an estimated 30 billion yuan and is expected to open in 2019. No other Six Flags parks have been announced.

Major Local Theme Park Players

Overseas Chinese Town Holding Company (OCT) holds the largest market share and retains the title for building China's first theme park in Shenzhen. In 1989, OCT launched Splendid China, a park that showcases miniature models of famous Chinese landmarks. As of August 2015, Forbes reported OCT owns more than 10 percent of the market share with other local companies occupying less than 2 percent each. OCT is the owner and operator of the Happy Valley roller coaster park chain and some other parks. There are six Happy Valleys across China (Shenzhen, Beijing, Shanghai, Chengdu, Wuhan and Tianjin) with at least three more (Fuzhou, Chongqing, Liuzhou) in the pipeline. According to the TEA/AECOM annual report on theme park attendance, OCT is the fourth-largest theme park group in the world. The Shenzhen-based company welcomed nearly 28 million visitors in 2014, which is nearly five times less compared to reigning champ Disney. According to the TEA/AECOM report, the early entrant gained dominance in China using a strategy of geographic expansion, and time will tell whether this strategy can hold against foreign giants like Disney. Hong Kong Polytechnic University's Dr. Schuckert further alluded to OCT as a company that, since its inception, has attracted visitors with its landmark models — it brought well-known places across the world to China at a time when many Chinese could not travel outside of the country. Dr. Schuckert said, "China is opening up more and more. People can travel outside [of China]. OCT faces competition from people traveling outside who do not need to go to Interlaken in China to see a fake Switzerland."

A local company that Dr. Schuckert and AECOM's Mr. Yosshi both look favourably upon is Chimelong Group Co., Ltd. In 2004, Chimelong broke the top ten list of TEA/AECOM's top theme park group for the first time, taking the number nine spot with 18.6 million attendees. Chimelong operates two major resorts, one in Guangzhou and the other in Zhuhai. Chimelong Guangzhou, which opened in 2006, features a theme park with 70 rides, a safari park, a water park, international circus entertainment and a crocodile park, along with two hotels. The company opened its second resort in January 2014, strategically located in Zhuhai, which is just north of Macau. The Zhuhai resort comprises an ocean park and three hotels. It welcomed 5.5 million visitors in its first 11 months. As TEA/AECOM report remarked, "This performance is especially impressive taking into account that the park is in a new location — with no other theme parks nearby (although convenient to Macau)." Even though Zhuhai is considered a new location for theme parks, Dr. Schuckert believes the resort is well positioned because of its proximity to Macau (a gambling entertainment centre) and Hong Kong (a shopping mecca). He foresees Chimelong developing the Zhuhai destination into an Orlando-styled resort area.

"Chimelong is recruiting from Ocean Park and Disney in Hong Kong. If you look at the park management in Zhuhai, these are all former staff from well-established attractions. You can feel the difference when you go there," Dr. Schuckert raved. Mr. Yosshi agreed: "Their new projects are very good qualities. They have good design firms, they put on big attractions, so they recognize the trend is moving in that direction — that customers are going to want a high-quality experience." In December 2015, Chimelong and the Zhuhai municipal government announced a joint investment of over 50 billion yuan to build four more theme parks (Animal Kingdom, Ocean Adventure Park, Water Park and a Science-Technology Park). No timeframe was announced.
The newcomer among local companies hoping to get into the theme park market is Dalian Wanda Group. Wanda is taking big strides to make up for lost time. After four years of construction and an investment of 15 billion yuan, the company's first outdoor resort opened its doors in September 2015 in Xishuangbanna, Yunnan. The resort, covering 1,300 acres, is a good blueprint of a typical Wanda cultural tourism city development. There is a theme park, a stage show, a clutch of hotels, a bar street and a Wanda Plaza shopping mall. Over the past seven years, Wanda has partnered with local governments to build cultural tourism cities across China. In addition to Xishuangbanna, the cities include Guangzhou, Wuxi, Nanchang, Hefei, Harbin, Chengdu, Qingdao and Wuhan. Each city will boast either an indoor or outdoor theme park that is currently under development. The Xishuangbanna park is too new to obtain attendance figures. Mr. Yosshi offered a neutral outlook on Wanda's effort: "I haven't seen any numbers from them. They may make the [top ten] list this year." He added: "It's still quite early in their development and how they will perform. They are trying to do it indigenously — they are not using foreign IPs and they are building up their own operating company … I think there will definitely be some good projects and some bad projects, and Wanda will go through a little bit of a trial period."

The Era Post-Shanghai Disney Resort

When Hong Kong Disneyland opened its doors in 2005, Hong Kong Ocean Park rose to the challenge. Ocean Park is an establishment in the area that has operated since 1977. When Disney entered the market, Ocean Park announced a HK$5.5-billion Master Redevelopment Plan that doubled its attractions from 35 to 80. The reinvestment was a success and visitors grew to almost 7.8 million in 2014. Industry experts predict the same situation will happen with Shanghai Disney. "I think the smarter operators would up their game in terms of attractions, making them more advanced, better service quality and cleanliness," said Mr. Yosshi. He believes Disney will move the industry in a positive direction, leading by example that world-class standards can command premium prices. IAAPA's Ms. Mangone noted, "Historically we find that as new attractions open in different areas, the markets can benefit from increased area visits and overall interest in amusement parks."

It cannot all be rosy though. Hong Kong Disneyland already posted a 9 percent loss in visitors in 2015 from 2014, or 7.5 million visitors down to 6.8 million. The major loss in attendance is due to fewer mainland Chinese visitors. Once Shanghai Disneyland opens, mainland Chinese tourists going to the Hong Kong park may erode further. Mr. Yosshi said, "The recent decline is a bit of wake up call because [Hong Kong Disney] have been benefitting from the surge in tourism from China." He stressed existing parks cannot be complacent. Reinvestment and continued innovation are keys to longevity.

With increased competition, there will be a shakeout among operators. "There will be some parks that won't make it. There will be some attractions who can turn around and who will develop their own identity," said Dr. Schuckert.

Future Outlook

Despite the sluggish economy that captured headlines in the beginning of 2016, the Chinese theme park industry has a fantastic outlook. Experts believe that the China market is in a young stage of development, and the national government supports the growth of theme parks. China's roadmap for the next five years is paving the way for a bright future in China's theme park industry.