China's
Newfound
Appetite
for
Chocolate
Is
Big
Business
Caifu Magazine |

by Caifu Global

EN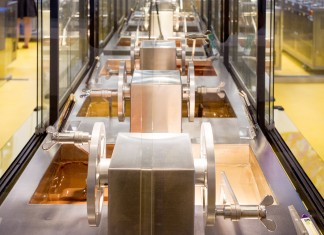 Around 30 years ago, most of China's billion people had never eaten a piece of chocolate. Fast-forward to the 21st century – the Chinese have transformed into raving chocoholics, as the typical consumer now eats the equivalent of around 24 chocolate bars a year.
The International Cocoa Organization says cocoa production is barely keeping up with global demand, as economists predict a chocolate deficit of 1 million tonnes of cocoa beans by 2020. To meet that demand, World Cocoa Foundation analysts estimate a half billion new cocoa trees need to be planted along the coast of West Africa and in Latin America in the next decade.
The Chinese are now beginning to develop a sweet tooth, as per capita consumption is increasing steadily at 1.2 kilograms per person annually, according to a 2014 report by KPMG. Women and children are China's main consumers of chocolate.
Tastes for chocolate are also maturing in China. While gourmet brands remain popular in the country, like Swiss chocolate maker Lindt & Sprungli and England's Charbonnel et Walker – Queen Elizabeth's truffle of choice – luxury chocolate is less fashionable these days, compared with authentic, all-natural products.
That's what inspired Austrian-based chocolate company Zotter to open a Chocolate Theatre at the Shanghai International Fashion Centre in May 2014 – to get 23 million Shanghainese excited about the chocolate-making process from bean to bar.
"We just want to make chocolate that we ourselves can enjoy without a bad conscience. That's it," said Josef Zotter, an Austrian chocolatier and pastry chef. Zotter also refrains from using preservatives, artificial aromas and other chemicals in his chocolate products.
According to professional chocolate tester Georg Bernardini, Zotter ranks among the best chocolatiers in the world as of October 2015. "Zotter is by far the most innovative company in the chocolate industry," Bernardini said. "During the chocolate boom, the company certainly represented one of the driving forces. However, the products are not only innovative but also of consistently high quality."
Julia Zotter, CEO and general manager at Zotter Organic Chocolate Shanghai Ltd., told Caifu magazine Monday, Nov. 9 company sees huge potential in the Chinese market. "Customers in China don't have much experience with chocolate, so we have to start with the basics," she explained. "But organic products are becoming more sought-after in China. Our entire range is organic and fair-trade quality."
To compete in China, international chocolate companies must focus on the higher end of the market, embrace their foreign heritage, and guard their competitive advantage, advised Lawrence L. Allen, a Beijing-based business executive and author of Chocolate Fortunes: The Battle for the Hearts, Minds and Wallets of China's Consumers. Zotter is doing this in China with its Chocolate Theater. Housed inside a heritage-protected brick factory in Shanghai's Yangpu district, visitors can observe chocolate production in action, as well as sample chocolate at various tasting stations.
The Chinese particularly enjoy how chocolatiers pour liquid chocolate by hand, as they can sprinkle chocolates with flower blossoms and fruits, the elder Zotter noted. "The Chinese laugh a lot at the sweets served on the Running Chocolate conveyor belt; it's a real highlight of the tasting tour," he noted.
China's Urban Dwellers Demand Chocolate
Sales of chocolate in China overall have doubled in the past decade, and will continue to rise, commodity experts note. Bert Alfonso, the former president of Hershey International, forecasted in February 2015 that chocolate sales in China should grow to $4.3 billion by 2019, up nearly 60 percent from $2.7 billion in 2014.
By 2016, the Chinese middle class will number around 340 million, and their greater purchasing power will prompt consumers to demand a greater variety of products in the chocolate and confectionery market. China is the next big chocolate market in the world because of its huge consumption potential, Zotter explained. "They are demanding premium quality chocolates."
China's growing urban population will drive chocolate consumption, Alfonso added, as living standards rise in cities, and its residents gradually accept a Western lifestyle. Around 71 percent of Beijing's inhabitants nibble on chocolate every so often, while approximately 79 percent of those living in Shanghai occasionally enjoy a chocolate treat.
"Our customers in Shanghai are more open-minded toward our more unconventional chocolate creations," Zotter said. The hand-scooped chocolates enjoy cult status at Zotter, as the Chinese are eager to try chocolate with unique fillings like blueberries, caramelized peanuts, cheese, fish, goji berries, green tea and sesame, guarana incense, rice, sheep's milk, soy and wine.
Zotter Chocolate established operations in the United States in 2015 in Cape Coral, Florida. The American chocolate-lover gravitates toward vegan options, Zotter pointed out. "But in general, Americans have a sweeter tooth compared with the Chinese," she added. The most popular flavours in the United States include coffee toffee, and vegan chocolates flavoured with hazelnut and coconut.
Taste the Dark Side
China is the world's biggest dark chocolate market, the KPMG report noted, as Chinese taste buds prefer a more bitter taste for chocolate rather than a sweet flavour.
"In China, our most popular chocolates are all dark varieties, with low sweetness and low sugar," Zotter said. "Our fruit-based chocolates are quite tangy and acidic. In general, our customers in China prefer special flavours like our chili chocolates or our cheese chocolate."
Medical experts have found dark chocolate is loaded with nutrients like fibre and iron that are good for the brain. A tiny amount of dark chocolate everyday also helps lower blood pressure and cholesterol levels, thereby reducing the risk of heart disease.
"More than a to-die-for treat, [dark chocolate] is the healthiest type because of the higher cocoa content," Christian Rast, chief pastry chef of Hilton Shanghai Hotel told Cultural China. "Dark chocolate with its high cocoa content has positive effects on health. Antioxidants block free radicals that can damage the arterial wall. [Dark chocolate] is also a stimulant to get into a good mood, and helps prevent heart attacks," Rast added.
Dark chocolate may also be the cure to health challenges including Alzheimer's, autism, diabetes and obesity – even ageing, medical professionals added.
Chocolate: The Gift that Keeps on Giving in China
The Chinese first got a taste of chocolate in the 1980s, as consumers initially bought expensive chocolates as gifts – not for personal consumption, Zotter explained. Gifting makes up around 30 percent of the Chinese confectionary market, as a box of chocolate is one of the most popular gifts for hosts during holidays.
Italy's Ferrero Rocher is one of China's major chocolate brands, reaching U.S. $190 million in retail value sales as of 2013. Branded as "gold sand" when it first arrived in the Chinese market, its gold packaging – a symbol of wealth – and its advertising campaign conveyed a high-end lifestyle to consumers. As a result, the Chinese often give Ferrero Rocher packages as gifts to commemorate traditional celebrations.
"Packaging is [also] very important in China … perhaps more than other markets," Zotter added.
Belgian luxury chocolate brand Godiva launched a chocolate version of mooncakes filled with Chinese tea, crunchy nuts and fruit ganache in fall 2015, packaged with a unique lotus print. The Chinese traditionally share mooncakes during the Moon Festival every autumn.
While Lunar New Year is the peak sales season for chocolate in the mainland, the Chinese also embrace Western holidays like Valentine's Day and Christmas.
Now that chocolate is present in every global market, the chocolate industry is heading toward individualization and specialization, Zotter noted. With tens of millions of new consumers emerging in China each year, they will eventually demand single-origin chocolates – made with cocoa beans from one particular country or region.
The latest trends in chocolate production include crafted chocolates, new flavour combinations and sustainable sourcing, Zotter concluded. "This trend will take a while to arrive in China, as the chocolate market is still developing."