A
Tale
of
Two
Canadian
Cities:
Real
Estate
Outlook
for
Vancouver
and
Toronto
Caifu Magazine |

by Alan Forsythe

EN
Canada's two hottest real estate markets, Toronto and Vancouver, face a similar problem -- a lack of inventory. However, in the short-term (2018-2019), analysts predict Vancouver's market will continue to outperform Toronto.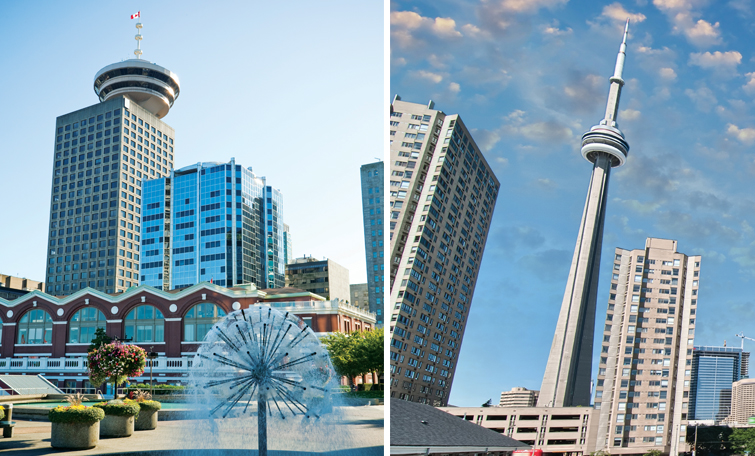 However, relative performance on the sales front is measured in degrees at this point. As noted, inventories remain tight, but other factors may slow, according to analysts and sales.
"Housing demand across the province [British Columbia] will face increasing headwinds in 2018," said Cameron Muir, British Columbia Real Estate Association's (BCREA) Chief Economist. "A rising interest rate environment and more stringent mortgage qualifications and lending policies will reduce housing affordability."
"Given the rapid rise in home prices over the past few years, the effect of these factors will likely be magnified," he added.
Jason Mercer, economist for the Toronto Real Estate Board (TRED) said Ontario's fair housing policies, announced in 2017, reduced some buying due to the 15 percent foreign homebuyers' tax.
"The fair housing policies provided some relief, but stricter borrowing provisions were also introduced," he added.
Mercer said that according to TRED data, foreign homebuyers, who bought for investment only and have kept units empty, make up a much smaller percentage of buyers than is sometimes portrayed in the media and in local government.
"Our own consumer survey, which we went to some lengths to weigh across the board and make sure we represented the population of the GTA (Greater Toronto Area) we found only about 1 percent are buying and keeping vacant," Mercer added. "Certainly offshore is driving a segment of the market, approximately 15 percent, but almost three quarters of buyers are new homebuyers."
Ironically, the pressure on developers to build purpose rental housing may further reduce housing inventory, whether for purchase or for rental, opined Mercer.
"There's a real fear now that construction will slow," he continued. "The problem we're now seeing is rent controls on new units have caused vacancy rates to go lower less than 1 percent. Whether you're an institutional investor building 300 units, or a lone investor building two units, there's going to be less return on those investments with strict rent controls in place."
The situation is not as dire as it was two years ago. "At the end of 2016 we were measuring available inventory in days. At the end of 2017 we had approximately two months of inventory," said Mercer.
He explained that the lack of inventory is largely artificial, with 40,000 units approved in the last few years, and only 25,000 units completed in that time.
"Unfortunately extended development times have become the norm, which certainly came to a head in 2016, and still exists -- it was just masked a little in 2017," said Mercer. "Unfortunately there's no long-term plan to speed up the approvals process."
Mercer said the bureaucratic wrangling required to move residential projects through city hall creates the real risk of limiting new projects in Toronto.
Vancouver fares no better in bringing residential development projects from approval to completion, with the average project requiring 10 years to meet municipal approval and complete construction.
Furthermore, as sales per square foot rose, so have municipal amenity demands. This is meant to provide community amenities for potential residents, but it further pushes affordability out of the range of many consumers.
"The supply of homes for sale in British Columbia is at near decade lows," said Muir. He outlined the problem as one of extremely limited supply (in Vancouver's case) and demand.
Although as housing prices have rapidly risen, demand is cooling. He estimated the average home prices to have increased in value to roughly 3 percent for 2017. Muir predicted increases of 4 to 4.5 percent in 2018.
Mercer predicts slightly less price growth for Toronto, despite continuing demand.
"Looking at 2017, we'll probably see a price growth of 2 to 3 percent, based on almost no product," he explained. "As we move through 2018 into 2019, I think will see about the same level of demand based on population growth, and I don't see any more products coming online."
On the other side of the real estate equation, the low Canadian dollar is affecting vacancies rates in commercial real estate in both Vancouver and Toronto.
Tech companies from the United States -- who find Vancouver's active, healthy lifestyle and natural beauty as a draw for valued employees -- are eating up office space in that city. In Toronto, which is the banking and corporate head office capital of Canada, vacant rates remain low. Although, as Mercer noted, more companies in that city are looking at flex-space scenarios, and moving outside of the city's core -- and in some cases out of the city entirely.
Vancouver has long promoted itself as a tech hub, with a thriving film and video games industry and a growing virtual reality (VR) industry. Companies in the tech and creative fields tend to seek out more non-traditional office space. Due to this Vancouver, unlike Toronto, has much greater demand for green-field office developments.
The City of Vancouver has encouraged commercial development, and in recent years had to enact legislation to prevent the conversion of office buildings to condo apartment buildings, a trend in recent years.
Still, even with the prospect of new office development on the near horizon, most analysts predict a vacant rate of approximately 6 percent through to 2019, compared to a predicted vacant rate of 4 percent for Toronto.