China
Gold
International-A
Chinese
Enterprise's
Success
in
listing
in
the
NYSE
Caifu Magazine |

by Caifu Global

EN
Jerry Xie, the Executive Vice President and Corporate Secretary of China Gold Internationa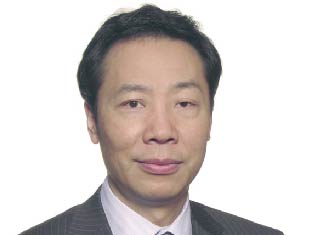 About Mr. Xie
Mr. Xie joined China Gold International Resources Corporation, Ltd. in March 2009. He is responsible for overseeing corporate secretarial matters and managing compliance for the company's listing on the Toronto Stock Exchange and the Hong Kong Stock Exchange. He also plays an important role in business development, project evaluation, investor relations, and public relations, as well as managing the company's daily operations in North America and Hong Kong. Prior to joining the company, Mr. Xie had over 25 years of experience in the petro-chemical and oil-sand industry. He worked as a senior piping stress analyst for WorleyParsons MEG (a division of WorleyParsons Canada Ltd.), a resource and energy engineering company in Canada, from February 2006 to March 2009. After joining China Gold International, Mr. Xie was involved in the company's HK IPO process, Jiama mine evaluation, merger and acquisitions, and the recent bond issuance. Currently, he is the company's Executive Vice President and Corporate Secretary.
《Caifu Magazine》: In 2008, China Gold International acquired the Jinshan Mining Company, listed on the main board of Toronto in Canada, taking the first step toward internationalization. First of all, could you briefly introduce our readers to China Gold International and its acquisition process?
Jerry Xie: China Gold International is the platform for overseas expansion of China National Gold Group Corporation. It is also a listed company with the biggest market capitalization and most dynamic transactions on the Toronto Exchange in Canada. China Gold International has also been listed in Hong Kong and is headquartered in Vancouver, Canada. In May 2008, responding to the "going global" strategy advocated by the Chinese government, China National Gold Group Corporation, as the biggest gold producer and central company in China, purchased nearly 40% of China Gold International stock at the price of USD 218 million , becoming its biggest shareholder. Since China's gold industry had never had any international operational experience in "going global" at that time, we, after cautious selection to ensure safety, made the final decision to adopt a model for placing the financing platform overseas, with its owner listed in a stable country while the asset were held domestically. But we faced some problems. Actually, the problems China National Gold Group Corp faced became China Gold International opportunities. In three years after the merger and acquisition, China Gold International rapidly turned losses into gains. Later, the continuous expansion of investment reached as high as USD one billion, with profits up by 33.1 times and with net assets up by 34.7 times to exceed USD 1.367 billion. What is worth mentioning is that we have fully utilized the influence and management ability of the domestic company while mobilizing resources in Canada. We hire local professionals, inject Canadian advanced concepts into China, and further transfer these experiences and tactics into Hong Kong. This has been the benefit for us in acquiring China Gold International. Looking back at that decision today, we see it was an absolutely correct one.
Since 2011, China Gold International has been recognized in several successive years as the fastest growing mining corporation in Canada's British Columbia province. According to a Business in Vancouver report in 2012, China Gold International ranked top on the list of fastest growing companies in the province of BC. In the comprehensive list of 100 most profitable companies released in November 2013, China Gold International ranked among the best and was the only China-invested enterprise on the list. In 2014, the world gold market was widely gloomy. So we issued USD 500 million of corporate bonds in the international financial market at the lowest financing cost with oversubscriptions as high as 15 times, and won the highest credit rating in the industry by two international credit institutions. As a dynamic central enterprise in Canada's mining community, we have not only achieved leapfrogging development economically but also won recognition and praise from various sectors in Canada in the process of setting up and developing our overseas platform in North America.
Notably, the achievements and recognition we have received have provided great confidence to the Toronto Exchange; notable because the biggest problem faced by the Toronto Exchange comes from the need to supervise companies from China. Since the two countries differ sharply in national conditions, they have diverging opinions on common issues. Some things that are considered reasonable in China cannot be practiced under the regulatory requirements in Canada. However, since our acquisition China Gold International has strictly observed Canadian regulations with good performance. After earning this strong reputation, acquiring operational experience and building a solid foundation, we were able to smoothly get listed in Hong Kong during 2010. In the past several years, the Toronto Exchange has considered China Gold International as the typical example of a China-Canada Model and we have been very proud of this.
《Caifu Magazine》:When China National Gold Group Corporation suffered from losses and was confronted with obstacles before the acquisition, how did they leverage the complementary advantages of China and Canada after it became China Gold International's biggest shareholder and make the enterprise achieve its sound operation and fast development after the merger and acquisition?
Jerry Xie: China International Corporation is a typical China-Canada listed gold enterprise. As the "Mining Industry Capital in the World," Canada enjoys a sound regulatory system, mature markets and perfect management. Numerous mining corporations in Canada lead in the world. Their operations and management teams are very familiar with the rules and universal standards of the international mining industry, so they can carry out feasibility research and initial design work based on this, and implement standardized operations in production. Their experience, professional skills and strong influence in the community have proved to be a valuable resource for us, while they have also become a talent reserve for our future development. Secondly, China National Gold Group Corporation has enjoyed rapid development in the past few years and it is in a leading position in China in terms of reserve, gold production, business volume of physical gold in the Shanghai Gold Exchange, investment in gold bar market share, and the technological level of refractory gold. Its extraction technology from refractory gold is in a leading position internationally. So as the controlling shareholder, China National Gold Group Corporation provides unique advantages. Thirdly, China is the second largest economy in the world and its gold industry also enjoyed rapid development this year. China is the top gold producer and gold consumer. Further, China National Gold Group Corporation is the biggest gold enterprise in China, the Chair member of the China Gold Association a chair member of the China Gold Standard Committee. Over 91% of the standards in the gold industry in China are formulated by the China National Gold Group Corporation through the China Gold Association. These advantages are irreplaceable. The development practice of the company proves that such a combination is full of distinct characteristics and prospects.
In addition to complementing each other's strengths, another strong case was that in June last year, it only took three months for China Gold International to finance with the lowest cost and successfully issue USD 500 million corporate bonds on the world's capital market. The company's bond issue was oversubscribed by as high as 15 times and saved nearly USD 210 million in financing costs, widely benefiting shareholders. Standard & Poor and Moody, the two biggest international rating institutions, respectively declared that the credit rating for China National Gold Group Corporation, the controlling shareholder of China Gold International, was BBB (Baa2), the highest in the gold industry around the world. Such a rating result has made the international capital market and investment institutions fully confident in the company's bonds issued and at the same time established a good reputation and industry image for the company in the international bond market.
《Caifu Magazine》:As for overseas merger and acquisition by State-owned enterprises in China, does the western mainstream society have any misunderstandings or ideas on this?
Jerry Xie: The growth rate and investment effort of China-invested enterprises in Canada have substantially improved in recent years, but knowledge about China by the Candaian mainstream society is still quite superficial. China's rapid development and the changes its made by leaps and bounds are not widely known by most Canadians, which undoubtedly accounts for the biggest challenges for China-invested enterprises coming to Canada for development. Moreover, cultural differences tend to make China-invested companies appear to keep an unnaturally low profile which creates an unintended mysterious appearance, especially as they avoid unofficial publicity, and unsubstantiated gossip and rumors, which can create negative impressions by the general public who do not know the facts. As a consequence, opposing political forces and special interests in Canada may exploit differing issues to negatively influence bilateral economic and trade relations. For example, The Mining Exploration Project of China Gold International in Tibet Autonomous Region in China would definitely be the focus of attention for Tibet separatists, environmental protectionists and conservative forces in the political community in Canada, a country that cherishes democracy, environmental protection and conservatism. Therefore, China Gold International has adopted multiple means to respond to these special interest groups in order to counter these unfriendly or even hostile biases. To be specific, we actively publicize the contribution to Tibet in terms of environmental protection, social responsibility, education and employment through open and transparent means to inform Canadians about the company's beneficial activities in Tibet; we positively respond to misinformation by Tibet separatists including the emergency handling of disasters in Tibet; we also actively expand communications with various levels of political officials in Canada to strengthen the intensity and depth of communications through the continuous use of facts to change the biases of conservative forces.
When coping with such challenges, China Gold International has actively communicated with various parties to counter misunderstandings so that every meeting can enhance knowledge and understanding. Our localization management team has, under a high-degree of trust from the Group leadership, fully leveraged their capabilities and networking resources to intensely and effectively communicate with all three levels of government in a positive manner, particularly with the national policy formulation bodies at the federal government level. Additionally, various social gatherings and parties are regularly organized within the political and business communities. These activities may seem casual but are often the most effective means for Federal Ministers to interact with and hear from a variety of interest groups. In this way, we can continuously familiarize them with the development status and track of China-invested companies so that they have more confidence in pushing forward Canada-China economic cooperation and economic and trade development.
《Caifu Magazine》:China Gold International has a good reputation, image and excellent performance on the Toronto Exchange and has become a leading example for listed companies from China. How has your company accomplished this?
Jerry Xie: During the five years after China National Gold Group Corporation became the biggest shareholder, and under its support, China Gold International established international management teams in China and Canada, built an efficient and low-cost profitability model, became highly integrated within the local community, became a China-invested company which both "goes global" and "goes in," and formed a "China Gold International Model" featuring "profitability, growth and an effective governance structure." The basis for the establishment of this model is a result of the full confidence and great support from the Group's management. The former CEO and present Group Chairman, Doctor Song Xin, is an energetic leader with foresight. Under the leadership of Mr. Song Xin, China Gold International, as the overseas platform of China National Gold Group Corporation, has become a solid basis for the platform to give full play to the Group's energy. Mr. Song Xin is ga good communicator, he encourages positive thinking, is willing to share his experiences, and is a highly talented man with strong qualities. He is an influential person who can bring people around to his thinking and vision through his remarkable personal charm. In the routine of daily work, Mr. Song Xin's level of vitality and courage is admirable. I believe an excellent leader should possess a long-term vision for the future, and his active and open attitude in this aspect is a huge support for us. It provides endless possibilities for the future development of the company.
Working together, we have set up a completely integrated professional team, gathering advanced managerial experiences from Canada, the US, Australia and Africa in the field of mining. We also keep the Toronto Exchange updated on our latest progress, achievements and business highlights by directly meeting with its members to consult and exchange information as a way to consistently deliver our message and increase understanding of our business concepts.
In addition, we understand a crisis situation may be either a disaster or an opportunity for a company. China Gold International has an excellent crisis management capability. We are constantly focused on crisis management and have adopted effective before, during and post-crisis management measures to minimize any potential negative impact a crisis can have on the company. We are familiar with how to handle crises as a listed company in North America. For example, while our management was on a flight from Hong Kong to London in 2013, natural disasters suddenly occurred near our mines in Tibet. According to convention, the most authoritative source of information about listed companies are press releases from the company. Therefore, as soon as the airplane landed, we immediately went into action at the local airport and made five press releases to timely communicate with the local media and with various levels of government. Because China Gold International responded so quickly and is sensitive to the interests of the market, it can effectively manage the whole situation so that people with ulterior motives fail to mislead the public. In fact, the issue of Tibet has always been a hot issue in Canada for China. The Tibetan separatists here seek various opportunities to intervene in our business interests and defame the image of the company. In this long lasting propaganda struggle with Tibetan separatists, China Gold International has found effective approaches to mitigate their tactics. In particular, in the handling of emergencies, the company would not give them an opportunity to attack us preemptively because we would proactively spread the facts of the situation through the media so the public can know what is true and not be misled. In this way, the reputation of the company is protected and the confidence of investors is maintained so that the company can safely overcome these events. Both the Toronto Exchange and Chinese Embassy in Canada has recognized and praised our methods for handling crises.
Finally, Canada is a country with a habit for charity. Companies, families and individuals all make donation plans every year, and so does China Gold International. In addition to establishing our international management team locally, China Gold International is also actively engaged in public welfare and supports philanthropic causes every year as a way to give back to the local community. Because only by being socially engaged can the company enjoy a better future. For instance, the Canada Cancer Society is the largest medical charity and has the biggest international influence in Canada. The Society invests donated funds in cancer research and treatment so that cancer patients around the world can benefit. For us, the success of a company should be reflected not simply on the performance report but more importantly on its contribution to the community and the social responsibilities it shoulders. Through our philanthropic undertakings, China Gold International has closely partnered with Canadian communities and Canadians, and has become an exceptionally outstanding Canadian company.
《Caifu Magazine》:What do you think other companies wishing to get listed overseas can learn from China Gold International's successful listing?
Jerry Xie: What China Gold International has done in terms of its model and social influence has far exceeded the significance of just being a successful company. The reason why the Toronto Exchange places such emphasis on China Gold International is that this is a hard-won company that integrates a Canadian enterprise with a Chinese central enterprise. In fact, the spread of this model can provide a good example for Chinese companies wishing to cooperate with Canadian companies. This model reflects a win-win strategy for companies in our two countries wishing to cooperate with each other, so this is what's of great significance.
《Caifu Magazine》:For a long time, China's gold industry has been focusing more on the development of the enterprise and meeting the physical demand for gold. Although China is the biggest gold consumption market, gold pricing has long been in the hands of western countries. What do you think we can do to out of the predicament of having no say in the international gold pricing mechanism for China's gold industry?
Jerry Xie: In recent years, everyone has been discussing how to increase the voice of China's gold industry in the global gold industry. I believe the best opportunity for this comes from the International Board of the Shanghai Gold Exchange. It was not until September 18, 2014 when the International Board of the Shanghai Gold Exchange opened did this opportunity finally arrive. As I have said, the gold pricing authority has been in the hands of four banks: Societe Generale in France, Bank of Nova Scotia in Canada, Citibank in the US, and Barclays Bank in the UK. These four banks determine the price of gold between them by telephone every day. They not only are the ones who determine the price of gold but they are also industry participants. So there may be some inside "game rules". However, the new London gold fixing regime to be launched on March 20 of this year means that the four banks will formally hand over the administrative authority for gold benchmark pricing to a third party. The brand new pricing mechanism will be renamed LBMA Gold Price. The Bank of China, the Industry and Commercial Bank of China and the China Construction Bank will all be members of the LBMA. In developing this new mechanism China's voice has been involved to a certain degree. Furthermore, with the establishment of the International Board of the Shanghai Gold Exchange, the futures spot trading center may be transferred to Shanghai. By then, everyone will settle future trading at the Shanghai Gold Exchange with RMB. These settlements are also closely related to the exchange rate. As a result, this can substantially contribute to accelerating the internationalization of China's gold market and the process of internationalizing the RMB. I believe these developments will increase the voice of China's gold industry in the international gold pricing mechanism.
《Caifu Magazine》: As a Chinese entrepreneur leading a listed company in Canada, can you share with us your feelings in recent years?
Jerry Xie: I believe an excellent leader should be professional, creative and international. It is very important to be proficient at work, and have groundbreaking thoughts and actions. An excellent leader should also have an international vision, and the ability to communicate with foreigners and foreign media. Personally, I have been in Canada for 15 years. Before this, I gained rich executive administration experiences in the central enterprise in China. Moreover, my technical management work experience in Canada has broadened my outlook professionally, creatively and internationally. All of this has greatly helped me to manage the daily routine of China Gold International. In addition, it is worth admitting that due to the bilateral cultural differences, this is the most difficult and challenging position in my career life. However, the openness and trust of China Gold International has given me the added confidence and courage I need to be successful.