China
Education
Industry
Overview
Caifu Magazine |

by Star

EN
At the same time since 2017, six China mainland education institutions, including Wisdom Education, Dadi Education, Yuhua Education, Minsheng Education, China New Higher Education Group and China Xinhua Education Group have gone public on the Hong Kong main board market. In addition, in the domestic market, several listed companies, including Kaiwen Education and Boundless Heaven and Earth, have transformed themselves into educational companies through mergers, acquisitions or asset divestitures.
The published financial report showed that the listed education companies have achieved quite robust growth in the 2017 fiscal year.
Performance of U.S.-listed Chinese K-12 Education Companies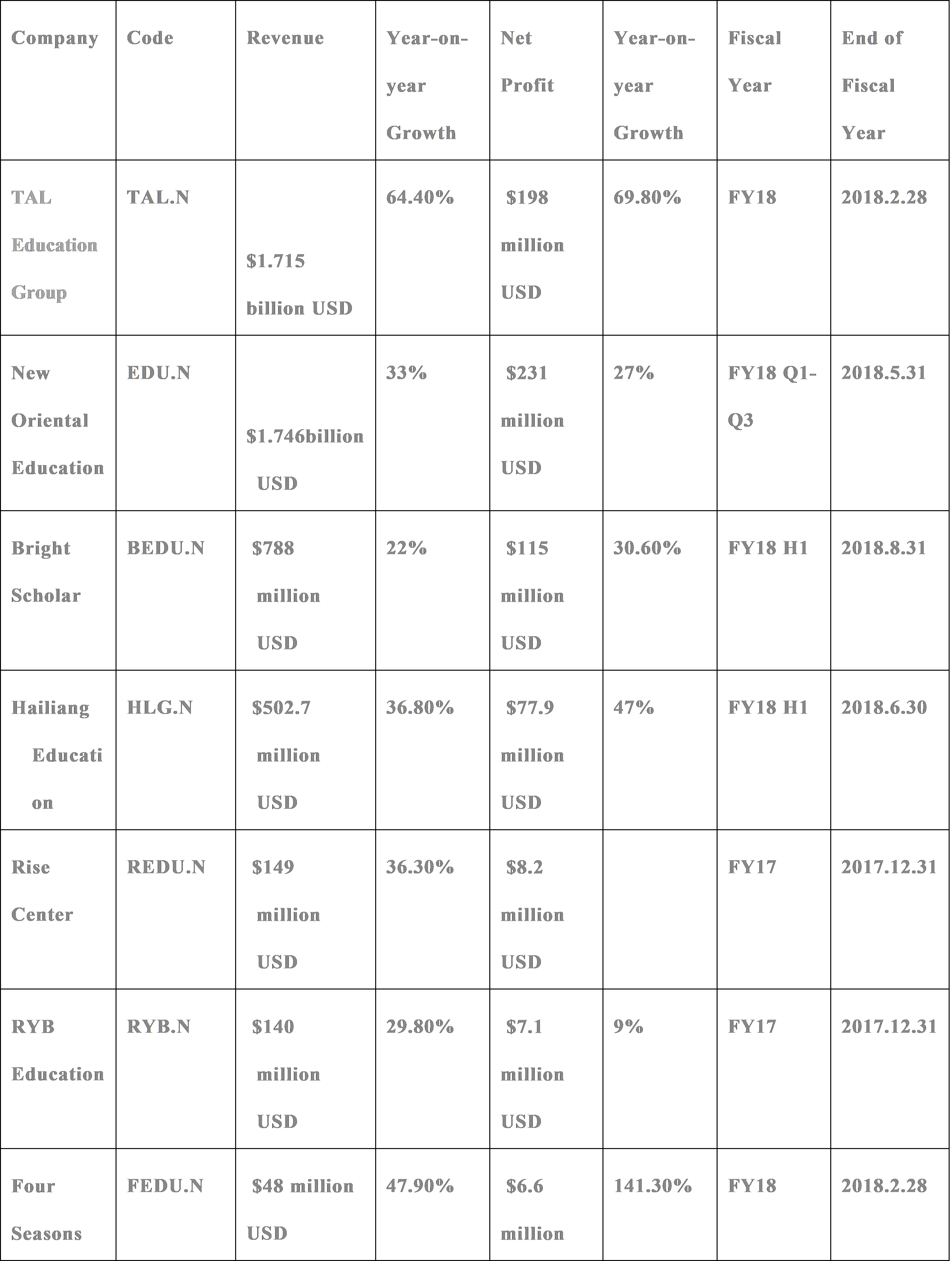 Performance of HK-listed Chinese K-12 Education Companies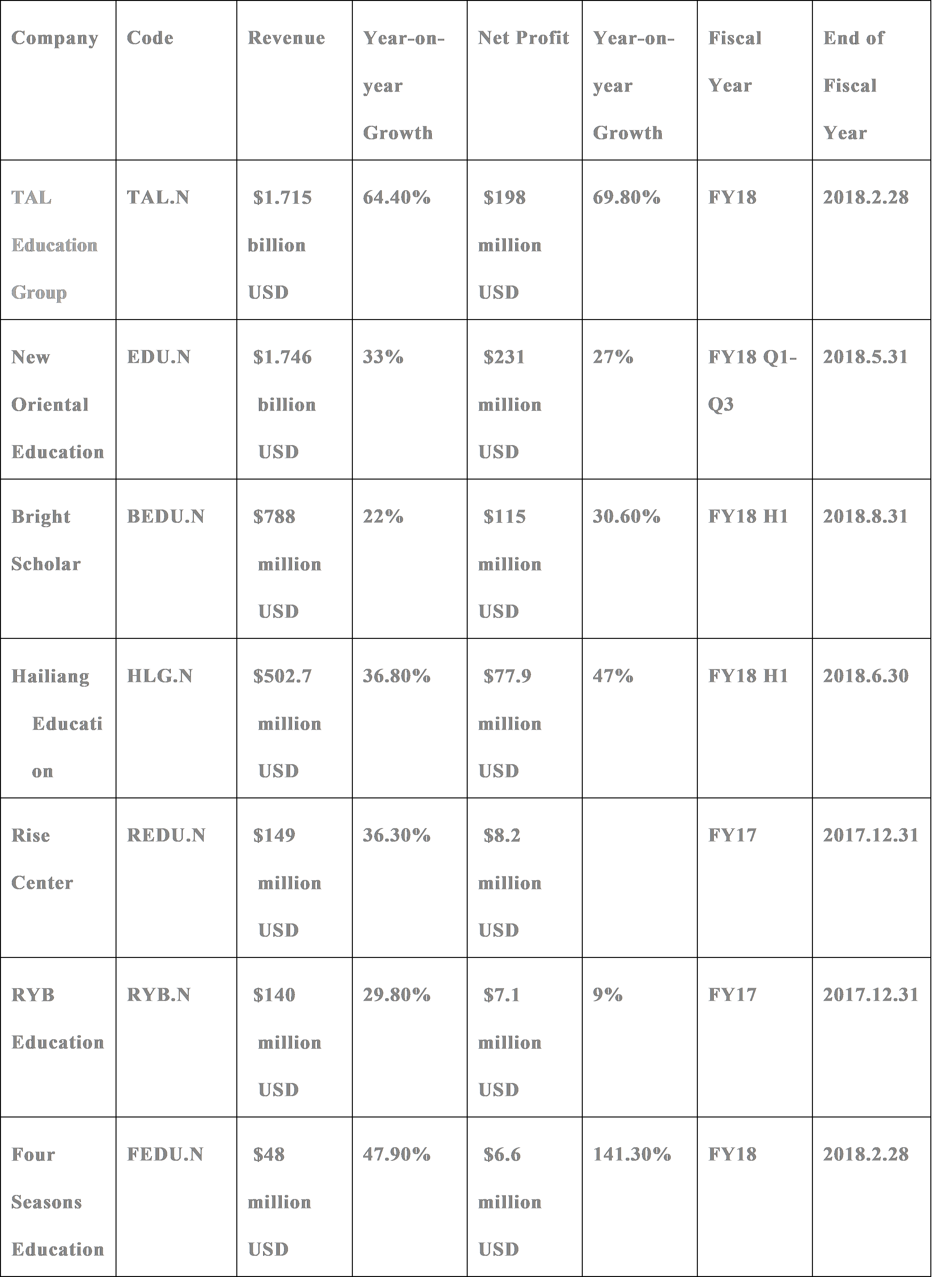 Trillion-Yuan Market Size
The K-12 education market can be mainly divided into private basic education and extracurricular training.
In the past, educational companies could hardly become the mainstream part of listed companies as their non-profit positioning run counter to the operational requirements of listed companies. With the revision of relevant laws, private educational institutions are officially allowed to provide academic education services, excluding the compulsory education stage. This will help the education industry usher in a booming period.
By type, K-12 private basic education can be divided into ordinary schools and K-12 international schools, such as Maple Leaf Education and Bright Scholar.
Driven by previous favorable policies, increasing demand from parents, and household income and wealth growth, private education has seen strong growth over the past five years. According to a research report issued by Frost & Sullivan, a corporate growth consultancy, China's private basic education industry increased from RMB 124 billion in 2012 to RMB 241.6 billion in 2016, and is expected to reach RMB 466.5 billion by 2021. The compound growth rate from 2012 to 2016 was approximately 18.1 percent, and it is expected to be 14.1 percent from 2016 to 2021. It is expected that the total revenue of the China's private education industry will go on increasing rapidly in the near future.
The Frost & Sullivan research report showed that the total number of China's private basic education schools increased from 31.4 million in 2012 to approximately 40.1 million in 2016, with a compound annual growth rate of approximately 6.2 percent. The report predicted that the enrollment of China's private basic education is expected to increase to 54.4 million by 2021. The increase in enrollment is mainly driven by the increase of school-age children as the result of the two-child policy adopted in 2015, and the increased preference of parents and students for private schools.
The penetration rate of private schools in China's basic education market is the percentage of students enrolled in private schools of the total number of students enrolled in both private and public schools. According to the Frost & Sullivan Report, such penetration rate of pre-school, private primary school, private junior high school and private high school education are expected to increase from 55.2 percent, 7.6 percent, 12.3 percent, and 11.8 percent respectively in 2016 to 60.7 percent, 9.1 percent, 14.8 percent, and 14.1 percent respectively in 2021. This shows that students and parents tend to prefer private schools over public schools.
Compared with the private basic education that has been subject to policy restrictions, China's domestic K-12 extracurricular training market started earlier and enjoys a larger market size.
On June 21, 2018 online children English brand VIPKID confirmed it had completed $500 million USD D+ round financing led by world-renowned investment management agencies including Coatue, Tencent, Sequoia Capital China Fund and YF Capital. This is by far the largest financing in the global online education sector. After the financing is completed, VIPKID will become the only educational startup in China with a valuation exceeding RMB 20 billion.
The huge financing of VIPKID represents the prosperity of China's domestic K-12 education and training market.
K-12 extracurricular training mainly focuses on providing primary and secondary school students with an integrated tutoring and teaching service covering all disciplines. As an effective supplement to in-class education, it plays an important role in making up for the lack of in-class education and achieving personalized education.
According to statistics by China Industrial Information Online (www.chyxx.com), the number of K-12 enrolled students in China was about 164 million in 2015, 33.4 percent of which participated in after-class extracurricular training. The average annual training cost per student was RMB 5020. In 2015, the size of K-12 extracurricular training market was about RMB 275 billion.
The number of students in the K-12 education stage is expected to increase to 169 million by 2020, with the participation rate increasing to 42 percent, and the average annual training cost per student will go up to RMB 8126. This shows that the size of K-12 extracurricular training market is expected to reach around RMB 576.7 billion by 2020, with five-year compound annual growth rate (CAGR) standing at 15.96 percent.